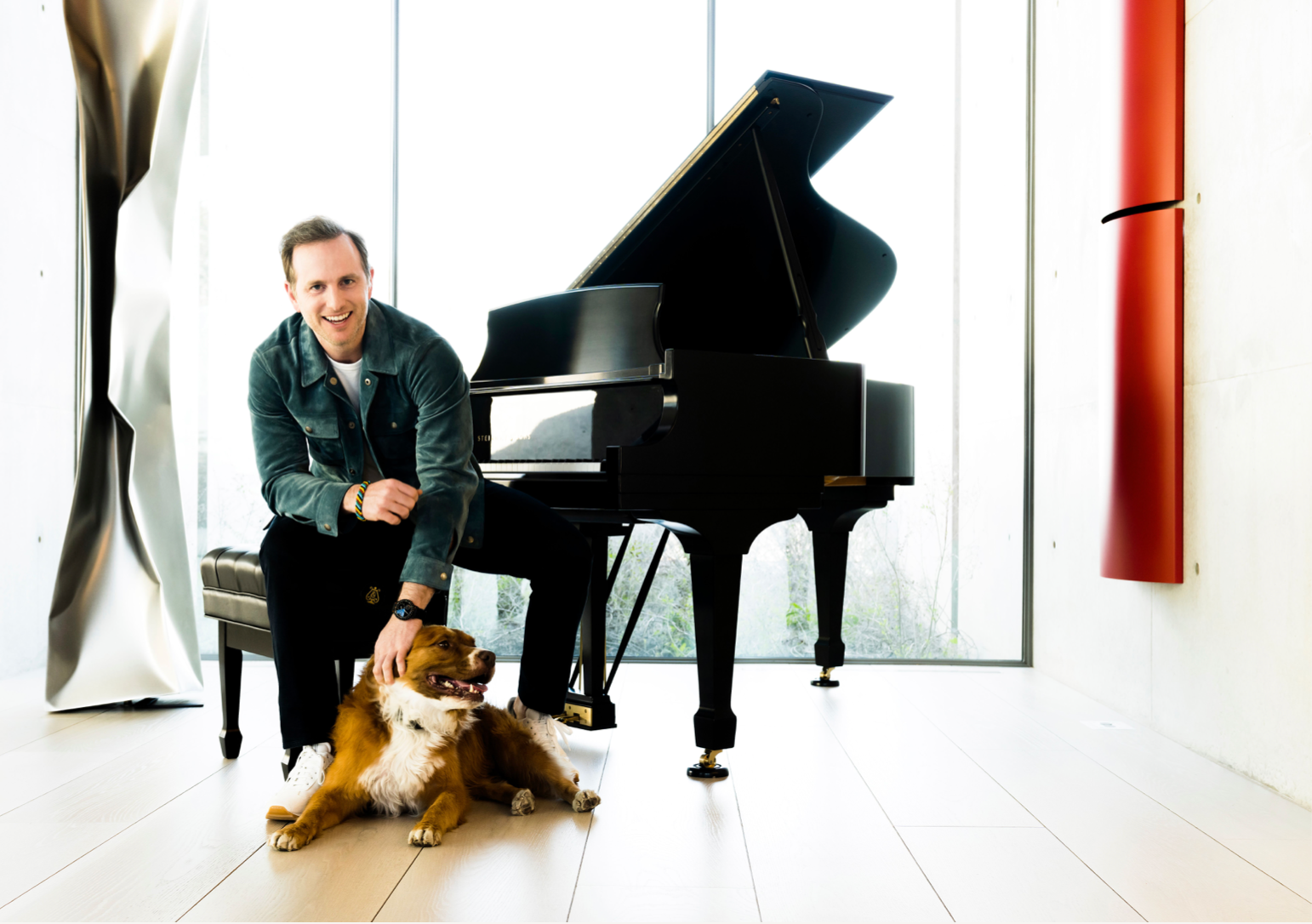 Entrepreneur / San francisco
JOE GEBBIA (& BELO)
While many know him as the co-founder of Airbnb, few know him as the discerning watch and design lover that he is.
In this interview, co-founder of Airbnb and man of many passions, Joe Gebbia, delves into the lesser-known aspects of his life and uncover his love for watches and design. From his humble beginnings to building a global phenomenon, Joe's journey is filled with inspiration and resilience. Join us as we explore his unique perspective on entrepreneurship, creativity, and his deep appreciation for the art of timekeeping.
Joe, thank you for joining us today. Did you ever think growing up that you would build a business that would become a household name?
Not in my wildest dreams. Growing up my parents were self-employed. Watching them determine their own success in the world was very inspiring. It planted a seed that one day I wanted to do the same.
Did you know how you were going to do it?
I didn't. Nor did I know what it would be. During the first dot.com while I was in high school, I experienced the rush of publishing on the internet. I loved it. I would read everything I could about companies that were starting out. One thing I noticed was that most of these companies were coming out of one place: Silicon Valley. Now, I didn't even know where this was on the map! But it sounded futuristic and far out. I imagined myself one day being there and part of the conversation. So, I guess there were these thoughts and aspirations.
J. Gebbia
"...then came this stronger voice within that was saying "keep pushing forward" ...
Like any venture, presumably it wasn't plain sailing- where did your resilience come from?
Oh yeah – running track and field in high school. The training was brutal. We used to have what was called "hell Tuesdays". This was two six-minute miles back-to-back, five 800m back-to-back and in Georgia's hot southern sun. The last place you want to be is outside – let alone running. And so there we were, running hills, training, and getting ready for the cross-country season. So many times, I wanted to quit. So many times, I wanted to give in. Every logical part of me was saying "let's call this" – then came this stronger voice within that was saying "keep pushing forward". Sometimes that was my voice – and sometimes that of my coach! There were some lessons there that I have carried forward with me from athletics. There is always more we can give.
Absolutely right. What does an average day look like for you right now?
The past year has been crazy. Last summer, after 14 years, I stepped down from Airbnb's operations. While, I'm still on the board, remain a top shareholder, and ChairAirbnb.org, I've set off on new adventures. A few months ago I announced my next company and big idea: Samara. We are building on the beauty of Airbnb, and finding ways to help people dream bigger in their lives. Our first product is called Backyard. It's a factory made, tiny home that includes all the hard stuff: permitting, land prep, utility hook ups and more. It's a thrill to be back in an early stage start up tackling a massive opportunity with a fresh and elegant solution. I've also released my first documentary at the 2023 Tribeca Film Festival, "We Dare to Dream". The Olympics provided the rights to Studio Gebbia to tell the story of the refugee athletes who competed in the Tokyo 2020 Games. On top of it all, I've recently joined the Tesla board. Everything combined rarely makes for an average day. And I'm incredibly thankful for that.
When are you most inspired?
I'm most inspired when I'm surrounded by creative people. When I see the team at Samara doing their best work – pushing beyond what they thought they thought was possible. When I see people take on impossible challenges – I find that incredibly inspiring.
Did you come to Ressence for its design?
Hell yeah!
It is so well packaged – so clean and crisp as a brand and product. It really stood out to me among other watchmakers. You look at the dial and there's a place for everything and everything has its place. Its intuitive – which great design always is. The high level of craftsmanship - the watch face itself looks impossible! 
Tell us about your watch – when did you first come across Ressence? 
I first saw one three years ago. I wear it and always get asked "what kind of watch is that? People want to touch it – see and wear it! It's rare that a watch will make me drop everything. This TYPE 3 did. It showed up online somewhere and my productivity that day dropped off a cliff while I turned into Sherlock Homes to figure out what company designed it. When I'm wearing it, I feel like James Bond meets Dieter Rams.
J. Gebbia
"When I'm wearing it, I feel like James Bond meets Dieter Rams. "
Were you a big watch fan before? 
Yes, I love a good timepiece. I appreciate that it gives me one less reason to check my phone.
Do you have any specific memories with it on the wrist? 
So many people ask me "what is that!?" the first time they see it. Then I have to take it off to show them it's a real watch! People are always so blown away. 
Thank you, Joe!
Discover other Meaningful Encounters
View all